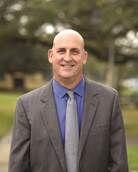 VICTORIA, Texas – Victoria College announced in a press release Saturday that former Victoria College President David Hinds passed away unexpectedly late Friday.
Hinds served Victoria College as president for five years beginning in 2015.
"We've been in touch with his wife, Kim, and she shared that Dr. Hinds was on a hiking trip in Utah when he passed away unexpectedly," said Cindy Buchholz, Victoria College's Executive Vice President – Chief Academic Officer. "She informed us that a celebration of life will be planned at a later date."
Victoria College will share details about Hinds' celebration of life when they are available. The cause and manner of death was not released.
"Our hearts are heavy," said Bland Proctor, chairman of Victoria College's Board of Trustees. "Those of us who had the opportunity to work with Dr. Hinds saw firsthand how he drew from his own experiences and focused his efforts on helping students achieve their goals. He will be remembered as a passionate leader who guided Victoria College through unchartered waters, including the aftermath of Hurricane Harvey and the beginning of the COVID-19 pandemic. We offer our sincere condolences to Dr. Hinds' family as well as the entire VC family."